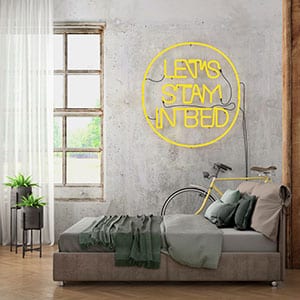 If you were to take a look inside the homes of many celebrities and interior designers, you would find that many of them incorporate neon signs into their home décor.  This bright, bold, and fun new trend is a great way to make a statement and add a little something different to your home.  If you have thought about incorporating neon signs into your personal home décor, check out our tips below to get started.
First off, you want to determine what type of neon sign you want.  Common neon signs done unique messages, others interesting designs, while some are vintage.  There are lots of different styles out there, so do your research for the neon signs that will best fit your style.
Next, determine where you will hang your neon signs, and if the location has a power source nearby.  If you are planning to install neon signs in a new construction or remodel, install an outlet directly behind the sign to hide the cord.  This will create a clean, cord-free look.
Lastly, invest in neon signs that you will love for a long time.  Something too trendy or too bold may not be something you want on your walls in ten years.
Here at The Barn on Country Club, we offer a great selection of vintage neon signs available for purchase.  If you are located in the Winston-Salem or other surrounding areas, stop by to check out our neon signs.  We also have a great variety of vinyl records, memorabilia, antiques, furniture, and other home décor.