We offer timeless antiques at low prices.
Is hunting for antiques a passion of yours? If you love scouring lesser-known retail outlets for treasures and are always up for the thrill of finding something entirely unique at a great price, here at The Barn on Country Club, we want you to come visit us the next time you go antique shopping in the Winston-Salem, North Carolina area.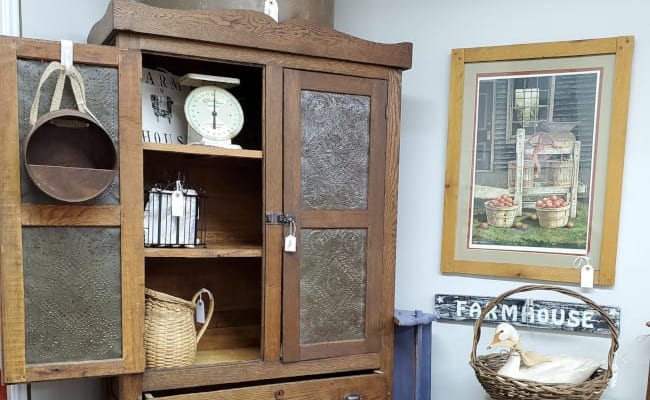 From furniture and collectibles to home décor, our selection of antiques can't be beat!  Whether you are looking for a beautiful side table for your entryway or you are ready to let our antique shop show you what you need, we guarantee you'll have a great experience shopping at our store. Plus, if you find larger furniture for your home, we offer delivery for just $75 within the Winston-Salem area of our store. Thanks to our delivery option, antiquing just got more fun!
On top of antiques, we also offer custom services to ensure your new-to-you items meet your needs and wants. For example, we offer beautiful handcrafted live-edge tables and benches by our very own Furniture Designer, Mark Nyswonger.
A truly one-of-a-kind, magical place.
"The Barn on Country Club is a truly one-of-a-kind, magical place. Obscure, authentic with national artifacts perfect for decorations and conversations. It's like an adult Disneyland exhibit. You can't see it all in one day, so you must go back, and you will see things you missed the first time!"
★★★★★ Louie M.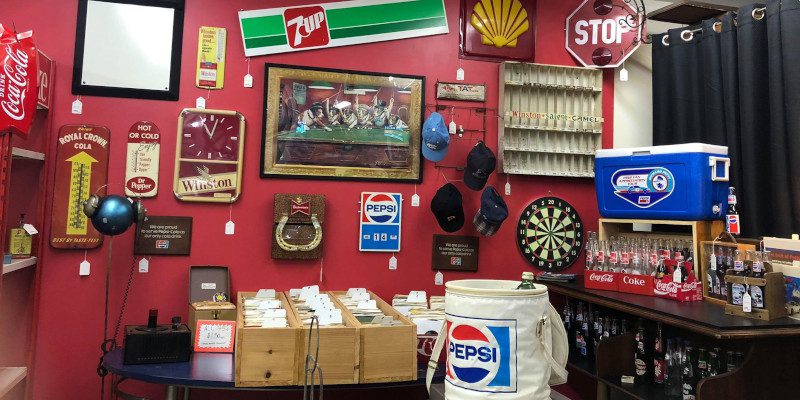 Great Inventory
We are always bringing in new inventory, which means you'll never grow tired of shopping our new-to-you items. We have everything from vinyl records to neon signs and vintage collectibles.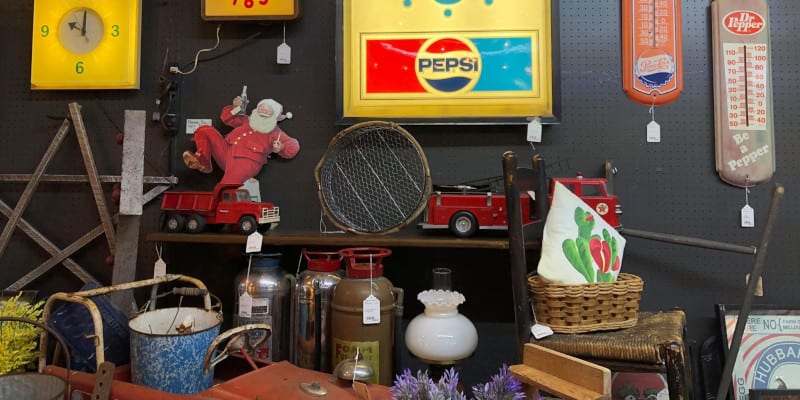 Low Prices
We aren't a consignment store, which means we can offer you the best selection at the lowest prices. Not only can you shop for some excellent pieces, but you can find the items that work for your budget, too!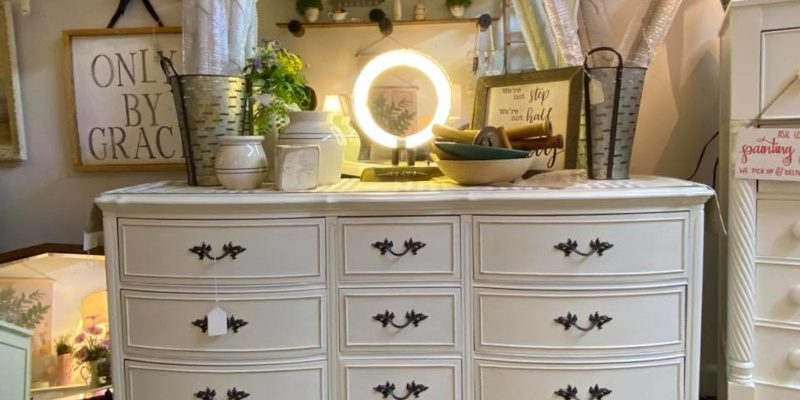 Excellent Service
Our service doesn't stop with providing quality showroom inventory. We also offer custom furniture, handcrafted live edge tables, paint services, all which will ensure you take home a real treasure. We have convenient delivery services, as well, so it's easy to get your new vintage items home.
You are Sure to Find Great Options at our Shop!
Hunting for timeless
antiques
just got that much better! Stop by and visit us at The Barn today to start your search or
give us a call
to find out more about our store hours, what we offer, etc. We look forward to having you shop with us.
Why Choose The Barn on Country Club?
At The Barn on Country Club, we have expertise in antique and vintage furniture and collectibles and we also offer Furniture and Decor! If you're looking for a unique item to add to your home or business you will love shopping with us!
See what some of our satisfied customers are saying about what we offer.
What an amazing selection of items. Refurbish furniture was beautifully done.
Bill Wixon
13:51 29 Aug 23
My favorite go-to when I'm bored or need something from my home. They never disappoint.
Stephen Way
23:43 03 Aug 23
This place is super amazing. I love shopping there.
Kathy Dapp
01:02 20 Jul 23
Love is going here. the owner is super nice and will negotiate some prices. Please support your small business.
Roxanne Laurel
21:19 09 Jul 23
Awesome selection of furniture!!!
Brandy Lewellyn
03:35 25 Jun 23
Great place to spend time
James Hamrick
14:21 24 Mar 23
Beverley Ezell
18:26 18 Feb 23
Johnny Ziglar
21:55 24 Jan 23
So many interesting items and very courteous and helpful staff.
Joyce Hinson
14:39 01 Dec 22
Love to shop at The Barn - great selection and the staff are very nice!
Jacqueline Weinreich
21:27 30 Nov 22
I feel like a kid in a candy store when I go to The Barn. They have so many beautiful things to insure creativity, and a ton of cool collectibles like old metal signs, vintage bottles and containers, andRepurposed furniture. They will custom paint your piece as well,And they do a great job. We have furniture in every room of our house that we have purchased there…the prices are great too! The owner, Renee, is a super kind-hearted and generous person,Which is extra incentive to patronize this business. Go check it out!
Rachel McMullin
14:12 25 Oct 22
They have great paints to choose from along with a great selection of knobs. They have many things to look at including albums and decorations and furniture along with other treasures.
Janet Williams
21:19 15 Oct 22
Has wonderful paints and knobs to choose from along with many great treasures.
Janet August
21:17 15 Oct 22
Nice clean and organized store. A bit of old and new, so if you're looking mostly for vintage, the selection might be a but limited. Friendly service and vinyl records are organized alphabetically.
Adrian "Adrian Travels" Travels
16:04 15 Oct 22
I love coming to NC just to see what new things gs they have.
Elizabeth VanHout
16:17 23 Sep 22
Our new favorite place to find things for our home! Every time we go we find something new and unique. This last time we fell in love with a beautiful live edge table that we knew we HAD to have! The very kind woman working helped us pair beautifully painted matte black chairs from another section to go with the table & bench that fit the full aesthetic we were going for! She offered different options and answered all our questions. We felt really taken care of and couldn't have been more pleased with everything we bought and the service. The delivery is a huge bonus too. I can't say enough good things about this place and if you're into anything farm style, vintage, antique, boho, or just plain COOL - this is the place to check out and OFTEN because you'll always find something new.
Nicole Benade
16:55 19 Sep 22
Love coming to this store! We always find something and I didn't know they offer painting classes. Hope to sign up for one soon.
Well laid out and very nice employees. Definitely a great place to look for an old treasure!
Jeff Tinker
01:40 11 Sep 22
Oh yes. Found me a piece of furniture and husband will be back to pick it up next weekend
Anna Cline
16:05 20 Aug 22
First visit.Loved it.Very nice young man and young lady running the store that day.
Sandra Moore
02:28 19 Jul 22
A very nice selection of quality vintage items for the collector and home decorator at very reasonable prices
Jim Pirkle
23:15 16 Jul 22
Fun place to go to. One of my sons fav stores. He tells people about it. From furniture to signs to knick knacks this place has so much more. Helpful and friendly too.
Eric Jennette
18:00 08 Jul 22
Great place to look for antiques and projects. I found these sewing machine drawers and build a cabinet with them.
Ester Wensink
11:55 09 Jun 22
There's some clean very nice people
Kevin Gately
17:59 21 May 22
Great place to shop for old and new cool stuff. Awesome wood furniture. Check them out.
UPDATE! Went back in to give it another try. As I was checking out, the owner asked if I was Lorrie and I said, yes, I am. She politely spoke to me and stated that she values our comments and my comments can hurt the store's appearance, and that she was sorry that I had a problem, she said that she always tell her girls to great customers when they arrive, then to ask if we need help and bid them a cheerful farewell and ask to return. She was kind and polite. I am glad I gave them another try. I did buy paint and purchased other items this time.I have been there two times to buy paint, I also looked through the store, and pricing seems high to me, and I felt like they follow you around at a distance. I have plenty of money to spend, and I could buy anything they sell there, but chose not to buy anything but paint, because of pricing and I didn't feel like a valued shopper. My advise would be to loosen up, value your customers, lower your prices so we feel important to your business, and more comfortable shopping in the store.
Lorrie Green
14:29 12 Apr 22
It was a very pleasant surprise and we found many things that we had been wanting!
Rodney Waugh
11:40 04 Apr 22
Awesome place they wouldn't negotiate on any prices though.
Tumble Doctor
00:42 03 Apr 22
Very nice place. Found 3 rare beer steins that we have been looking for and they were actually 50% off ... So happy
Teresa Ebright
20:12 26 Mar 22
The Barn is a truly one of a kind magical place. Obscure, authentic with national artifacts perfect for decorations and conversations. It's like a an adult Disneyland exhibit, you can't see it all in one day so you must go back and you will see things you missed the first time!
Louie Marino
22:58 02 Mar 22
Staff was very friendly. This place is more home decor than antiques but still had alot of neat stuff.
hot rods by Smitty
20:39 10 Feb 22
Havnt been here yet, but its added to my list! 5 star just by the actual antiques outside..
A "RINGET"
19:10 13 Jan 22
Really great pieces to decorate with at any time of year!
Portia Waters
04:11 14 Dec 21
Great customer service and the painting class was informative and enjoyable!
Cheryl Cooper
11:56 06 Dec 21
Wonderful antique, decor and furniture shop! The owner makes gorgeous live edge wood furniture. We bought two pieces from them, plus requested a custom piece. They delivered to us in Walnut Cove. Very friendly staff!
Jessica Hood
13:41 13 Nov 21
Joy Tveila
17:04 12 Nov 21
Joann Verbeke
00:04 12 Nov 21
The most amazing place to buy decorative furniture and art Pieces, and anything else for your home, great prices
javierymairelys Patino
20:33 14 Oct 21
Been going there for year's, Always a good variety of goods
RODNEY SERBER
18:51 10 Oct 21
I'm not an expert on antique shopping, but this shop has potential.
Corinne Fogarty
17:40 27 Sep 21
Excellent Customer Service. Good Prices. Good Selection.
Charles "Charles" Trotter
20:01 11 Sep 21
Staff provided great customer service.
Stella Croskey
09:36 28 Aug 21
We visited this event center for a funeral. Super cozy, very accommodating. Staff was friendly and polite.
Cute antique shop with a lot of old and new items.
Sonya Miller
17:09 07 Aug 21
A nice mix of items with most priced reasonably. The staff was very friendly and helpful. We bought one item as a gift and one for ourselves.
John Dillon
18:53 17 Jul 21
Great people...great place.
Dan Rodriguez
19:09 09 Jul 21
Friendly people and always find something good
Brent Daniels
21:34 08 Jun 21
Great place for antiques! The family members that run it are always helpful and friendly. Some very unique pieces. We never walk away empty handed!
Kip Crabbe
15:00 07 Jun 21
This store offers a little bit of everything! Prices are fair and the staff are super helpful.
Abigail McBride
19:23 02 Jun 21
Great place to find a great deal!
Good spot for treasure hunting. Both new and old items.
Eddy Cavenaugh
15:41 13 May 21
Great things. Antiques and handmade furniture. Classes in paint for a new look.
Christine McCormick
13:41 11 May 21
Great customer service and a huge variety of anything you need or want.
Sylvia Hutchens
21:07 27 Apr 21
Awesome place to find some nice pieces of furniture. Having delivery is great also. Can't wait to get our purchase delivered.
Interesting place if you like antiques. Everyone was nice and helpful. Will definitely go back.
Karen Roehrle
17:18 16 Apr 21
Kay Phillips
16:49 21 Mar 21
Amazing place, staff very friendly and highly recommend if you're looking for that unique item for your home!
Kevin Stephens
14:39 07 Mar 21
Nice employees and very helpful great product
Angela Darstein
18:23 01 Feb 21
Kelly Florkiewicz
20:36 31 Dec 20
Wonderful prices, interesting items. Staff could be friendlier.
Linda Honour
23:14 04 Dec 20
Got 4 vintage bar stools that we are in love with. Fair prices and friendly service.
Just happen to stop there bc seen them on the road glad did my old lady like it in there
Bleed For This
20:32 07 Oct 20
You'll Be Amazed at the Wide Variety of Treasures You Can Find!
Consider These Tips for Successfully Incorporating Antiques in Your Home
Similar Services We Offer: