Our in-house designers can add the paint color and finish you choose to each vintage furniture item you buy in Winston-Salem.
Did you know that many times vintage furniture is made of better quality materials than some of the new furniture available today?
Our vintage furniture can be custom painted any way you like!
At The Barn on Country Club, we have a great inventory of vintage furniture perfect for your home or business! Whether you are looking for a place to sit, something to store your china, or a decorative shelf, you won't be disappointed when you shop with us. We believe vintage furniture makes a beautiful addition to just about any space and there is nothing more fun than repurposing something with a little history to it.
Once you've found the table, chairs, benches, couch, china cabinet, and other vintage furniture pieces you love, we make it easy to style your new home furniture selection. We carry paint from both Rethunk Junk by Laura and Farmhouse Paint Company, which makes it easy to add a pop of color or a new finish. Our in-house designers can also add the paint color and finish you choose so you get great results from each vintage furniture item you buy.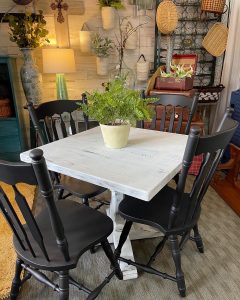 Once your vintage furniture is ready to take home, we have a convenient delivery service within the Winston-Salem, North Carolina area for $75.
We'll be happy to bring your vintage furniture straight to your door!
Give us a call today to find out about our next shipment or stop on by to see what we've got on the showroom floor. We think you'll love the new vintage furniture treasures you find!