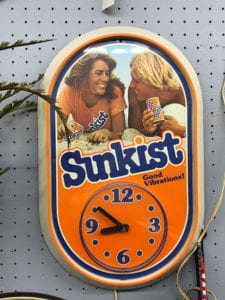 Here at The Barn on Country Club, we offer a wide range of high-quality antiques to use to decorate your home and give it some unique flair. While many of our customers come in looking for vintage furniture or antique china, others want to bring a different style to their homes. If you are looking for a way to incorporate some vintage flair into your decorating without making your home feel like it's stuck in the past, a great element to include is antique signs. In this article, we'll go over more about how to use signs in decorating so that you can decide if or how this element fits into your vision.
Focal Point- One great way to use signs in your home décor is to make one the focal point of a room. You can find signs on a variety of scales, and large-scale signs are perfect for this purpose. There will be no need to worry about incorporating other details with an iconic sign to serve as a conversation piece.
Splash of Color- Because they are used to get your attention, many signs come in bright, eye-catching colors. This makes them a great way to add a splash of color into a neutral palette or introduce a contrasting shade to create visual interest. Here at The Barn on Country Club, you can find a wide variety of vintage signs in a full spectrum of color.
Whimsy or Humor- Another reason that signs are a popular decorating element is that they give you the chance to throw in whimsical or humorous touches. For example, displaying an "Employees Must Wash Hands" sign above your bathroom sink adds a tongue-in-cheek wink to a mostly utilitarian space.
If you are interested in incorporating vintage signs into your own décor, you can stop by our store at The Barn on Country Club to check out our extensive selection.