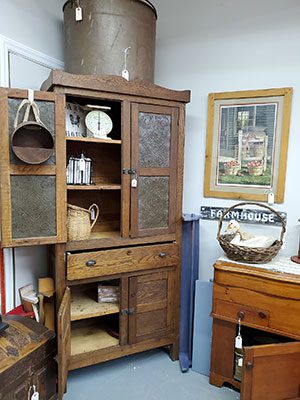 Countless people come to us here at The Barn on Country Club looking for interior design inspiration for their own homes, or to pick out items to furnish and decorate them with. One of the most popular design trends amongst our clientele is known as farmhouse chic, and in this article, we will be going over the basics of how to achieve this style in your own home.
Color Palette- One key element of farmhouse décor is the color palette. In general, farmhouse style favors lighter, natural colors, such as creams, browns, earthy greens, and sky and robin's egg blue.
Materials- Farmhouse décor favors a lot of wood, including wooden furniture and other design elements made of wood. Rustic ceramic and hammered copper are also popular choices, and natural fabrics such as wool and linen are the materials of choice for curtains, throw blankets, and similar items.
Furniture Style- When it comes to furniture, farmhouse décor is characterized by more rustic and old-fashioned styles–you'll see a lot of pieces with turned legs, rails, or posts. Upholstered furniture in farmhouse décor tends to be overstuffed for maximum coziness and comfort. Wooden furniture is generally painted to look distressed, meaning that it looks like it's seen significant use and wear, even if it's new.
Guiding Principle- Overall, the guiding principle of farmhouse décor is that the elements should look like what you'd find in a traditional farmhouse–the furniture should prioritize function over form, but should still aim for an understated simplicity, and the décor elements should at least look like they serve a practical purpose.